Interview with Coach Chris Kelley
By Joe Kutner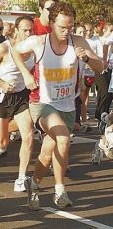 Kelley wants the althetes he coaches to come away from the sport as better people, not just better runners.
Chris is the assistant distance coach at Mt. Carmel High Academy. In his time working there he has seen four of the last six straight State Cross COuntry Team titles. He is also a 1999 graduate of Loyola University where he holds the school 10,000 meters cross country record.
1. What's the outlook for your girls this track season, any surprises?
Mount Carmel has a group of hard working individuals. They will fulfill their personal and team goals, hopefully.
2. Who's going to be the one to really step it up a notch for your team?
I am afraid I cannot speak for the entire team [I am currently in graduate school and only have limited contact with the distance runners.] but Mount Carmel has had the good fortune of having a large number of individuals who, "lead by example." Of the individuals I work with, it would be an insult to the others to drop names without mentioning the others.
3. Was hasn't come back from your State Champ team last fall? Is anyone trying other sports?
Like most teams, Cross country and track are two different animals. I did have the misfortune of losing two very good distance runners: Michelle Hymel, who is currently running for LSU and Courtney Reimonenq, who is running for South Alabama.
4. What kind of pressure -- if any -- do you put on some of the more talented girls to stick with running?
I would like to think that I tell my athletes the following: distance running is not a glorious sport; you will not have a great deal of external praise for you hard work. If you can deal with that and can live with the discomfort associated with this activity, I will go out of my way to see that you walk away from this activity a better person. I have been fortunate that the individuals I have the privilege to work with make up their minds that this is something they want to do and will do whatever it takes to make themselves better athletes.
5. What threats have you seen from some other schools around the state?
The caliber of female high school athletes is getting stronger every year. I do not plan my seasons around, "Who could potentially beat us?" I focus on what my athletes need to do in order to succeed. There are a lot of very good programs in the state.
6. How soon after graduating college did you start coaching? Did you start at Mt. Carmel?
I actually started coaching while in college. I was asked by my coach at Loyola, Steve Kalbaugh, to attend the Gulf States Distance Camp. When searching for someplace to student teach, I had the opportunity to help Tom Chiocchio while he was at Mount Carmel. Mount Carmel Academy is the only place I have coached.
7. What made you want to become coaching?
While in undergraduate at Loyola, I was planning on teaching. Coaching seemed to be a natural extension of teaching. I had my good days while running, but in reality, I still question how much faster I could have gotten. [My PRs are 17:00 for 5k and 34:45 for 10k.] I feel that I am a lucky person. I did not break 6:00 in the mile until my senior year in high school and managed to run 4:44 before I graduated high school. While at Loyola, I ran in 3 NAIA national cross country championships. If anyone owes something to the sport of distance running, it is me.
8. Is coaching all its made up to be? How is it worse? How is it better?
I find coaching to be a rewarding experience. I believe that teaching others how to run fast is as much fun as running fast yourself. I approach coaching with the philosophy that I will do this as long as I can physically run with my athletes. I would never have my athletes do any workout I would not willingly do myself.
9. Any thoughts of taking your coaching to the next level?
I was approached by Mike Gulotta, a runner at Loyola. He told me what he was doing without a coach and asked my advice. I told him that I would happy to help him achieve his goals. I have been helping him, along with other Loyola runners who ask for my help. They fell onto rather unfortunate circumstances, I want to try and help an institution that did so much for me while I was an undergraduate. Am I planning on leaving my current coaching position for something else? It depends upon the situation. I am not currently looking for "greener pastures."